!++++++++++++++++++++++++++++++++ start MDS edits ++++++++++++++++++>

<!+++++++++++++++ version date 8-12-04 ++++++++++++++++++>
Emily Hassinger Memory Page

---
These photos and articles were submitted by Emily and scanned in for the page. There will be names for the groups of photos where possible, below each set. Of The Hassinger Twins (sister Eleanor) photo, Emily says, "The pic of sister Eleanor and myself speaks for itself. First day at school in those times was a big deal! Had to get dressed up!"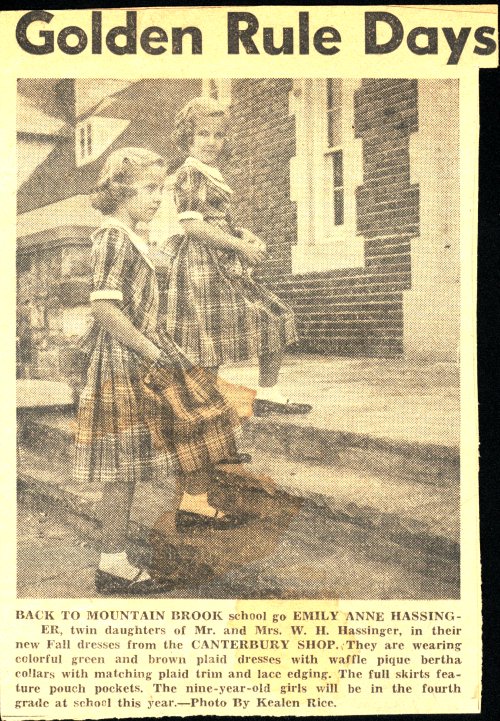 ---
I enclosed the get-well card simply for the many signatures. I don't remember the illness at all, of course, but it seems to have occurred in Mrs. Galloway's fifth grade.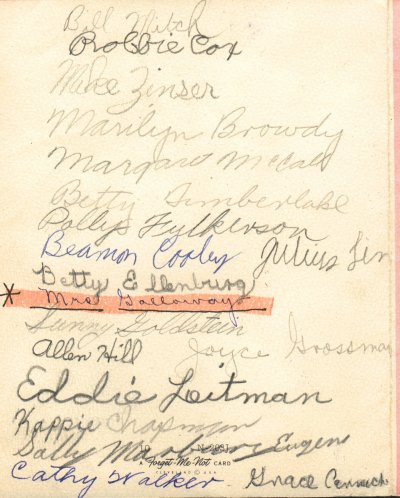 ---
Photos of 1954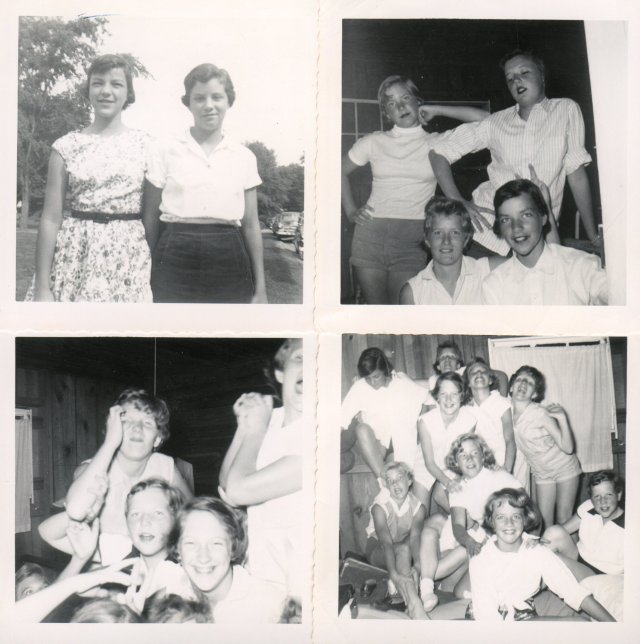 (above) Top Left photo is "Kappie" Chapman and Polly Fulkerson
Top Right photo is Mary Dunn, Jean Walters, Alline Brown & Kappie Chapman
Bottom Left is Cathy Walker, Winston Martin & Mitzie Hodo
Bottom Right is Betty Timberlake, Winston Martin, Mary Dunn, Kappie Chapman, Sister Cabiness, Cathy Walker, Alline Brown and Mitzie Hodo. Year, 1954
---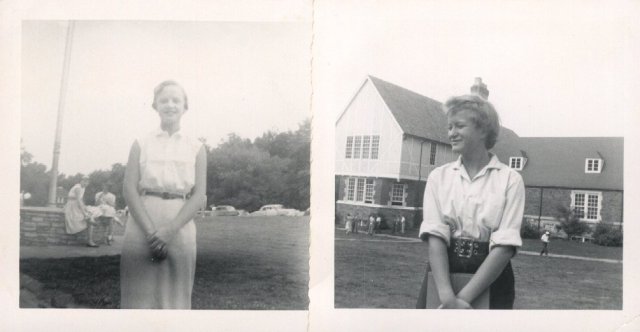 (above) 1954 snapshots of Jane Stephens and Alline Brown
---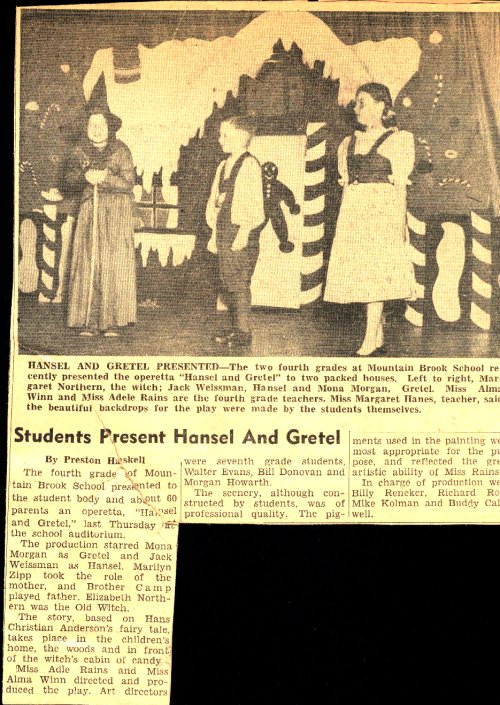 This was a play by the fourth grade (class of '57) at Mt. Brook of Hansel & Gretel. Playing Gretel was Mona Morgan, who lived two houses up from me (M.D. Smith) on Canterbury Road and as little kids, we played together. Her younger brother, George (who was really a little kid in those days) has become a Neurologist and Dr. George Morgan practices today in Huntsville.

Notice Art Directors Walter Evans & Bill Donovan (of Donovan Coffee Company) were in seventh grade, a year ahead of our class of '55.
---
[Copyright ©2004 by M.D. Smith - Web Hosting by HiWAAY Internet Services]

<! ++++++++++++++++ Version of July 7th, 2004 ++++++++++++ >